Big Sur - the 90-mile stretch of rugged coastline between Carmel to the north and San Simeon to the south - is well known for its beautiful views, hiking, beaches, redwood forests and other recreational activities. Highway 1 winds along the edge of the Santa Lucia Mountains, facing out to the rocky Pacific Coast.
In the late 1800's, settlers began establishing homesteads, and with the redwood lumber industry, Big Sur was more populous by the turn of the century than it is today. Some of these earlier settlers still have roots in Big Sur today - in fact the Post Ranch Inn, one of the accommodations we will go into detail below, was established in the 1860's. So, if you're looking for a three-day weekend of adventure and incredibly beautiful views, take a look at this itinerary we've laid out for you…
First things first - finding the right place to stay for your trip. Depending on what you're looking to spend, we have 3 suggestions…
The Post Ranch Inn - as we mentioned above, the Post Ranch Inn was established in 1867 by WB Post and his wife, Anselma Onesimo. While it ran primarily as a working ranch for the first 100 years, with the brief addition of a restaurant, in 1984 the Inn was established. In 1987, the family worked with architect Mickey Muennig, who has never designed a hotel, to make the inn feel like it was a part of its natural surroundings - a decision that landed Muennig on the list of top 100 architects in the world. The Inn stands at the pricier end - topping $1,850 - upwards of $3850 per night.
Glen Oaks Big Sur

- A 20 acre hotel property with cottages spread throughout the property, you can stay at Glen Oaks for around $310 - upwards of $2500 per night.

Deetjen's Big Sur Inn

- On the National Register of Historic Places, Deetjen's Big Sur Inn was founded in the 1930s by Helmuth and Helen Haight Deetjen. Shortly after the redwood barn was built, travelers found themselves stopping in for weeks to enjoy the cozy ambiance the Inn had to offer. In 1939, the main building was transformed into a restaurant and over the years Helmuth continued to add on to the Inn. As a more budget friendly option - you can find rooms at the Inn for $250 (in order to have a private bath) - $435 per night
DAY 1
Arriving from the North, we urge you to take some time and stop in Carmel-by-the-Sea on your way down the coast. A picturesque town that will make you feel like you're stepping into a storybook village - Carmel offers a sneak peak into the views you'll be seeing throughout the weekend.
Start your morning with a stop at Cafe Carmel for breakfast or, if you're in the mood to skip breakfast and go right to lunch, head to La Bicyclette Restaurant. From food, we're sending you south towards the Point Lobos State Nature Reserve. Here, you can choose between coastal hikes, a Whaling Museum or even scuba diving (if you're prepared and certified). The views here are breathtaking with coves that will make you feel like you're looking at the Mediterranean. When you've had your fix, hop in the car and continue heading south. The next stop we suggest is the Garrapata State Park Bluff Trail. You can pop out just to take in the view or if you didn't already get your walking fix, take a stroll out on the bluff.
Continuing your way down Highway 1, you'll cross over the Rocky Creek Bridge, which, if you're scared of heights, don't look down. You'll then come to another bridge, the famous Bixby Bridge. You can pull off the road prior to the bridge and snap some photos if you'd like - the architecture of the bridge is magnificent.
We've had you in the car for a while today, so let's get you checked into your hotel. Well, you will go by the Point Sur State Historic Park on the way to the hotel so why not make one more stop and see the preserved light house that's been continuously in operation since 1889. Okay now let's get you checked in.
For dinner, we suggest Deetjen's (which if you're staying there, couldn't be more convenient) for a cozy and welcoming dinner for your first official night in Big Sur. Like we mentioned above, Deetjen's has been around for almost 100 years and stepping into the restaurant you'll immediately feel the history in the interior and will be transported back in time.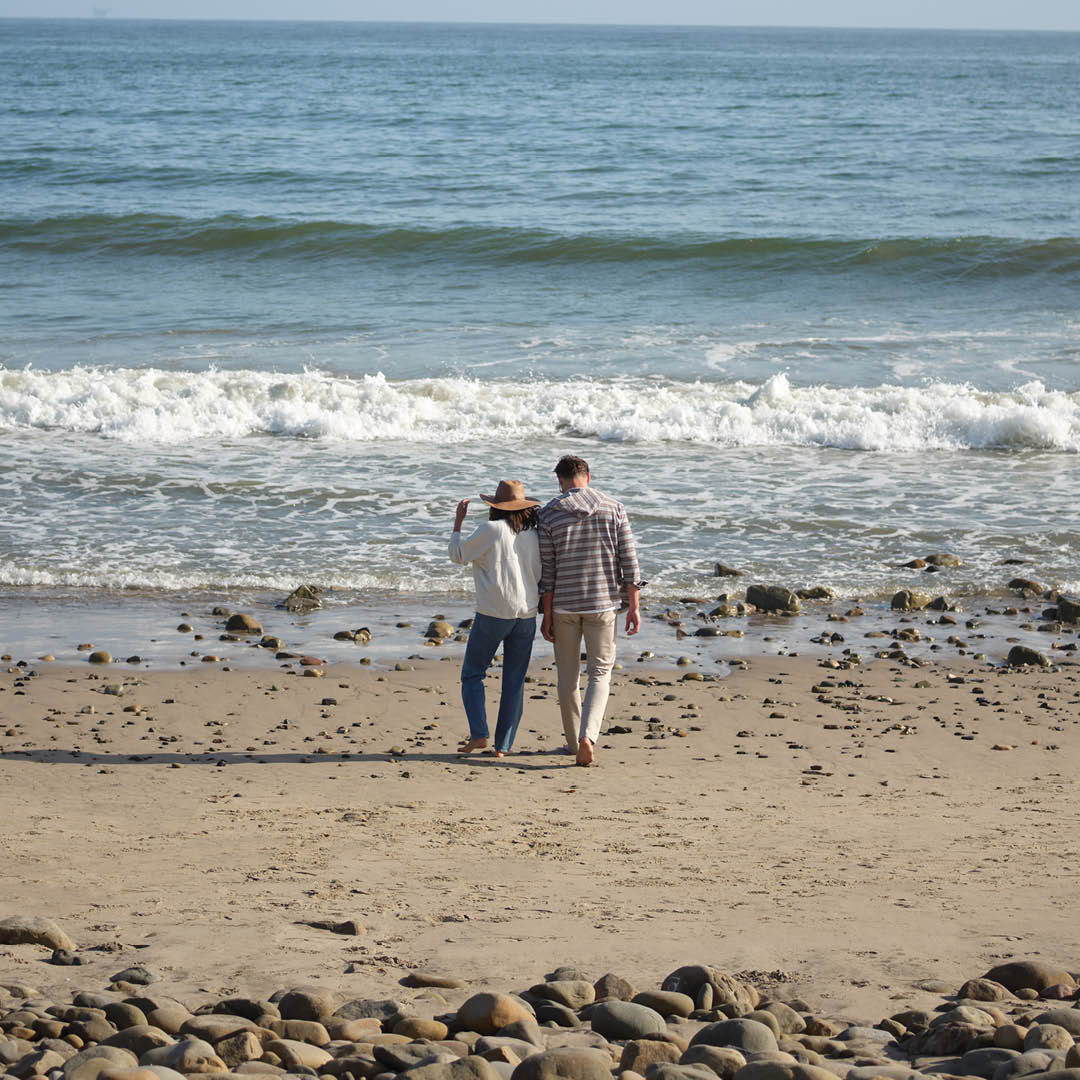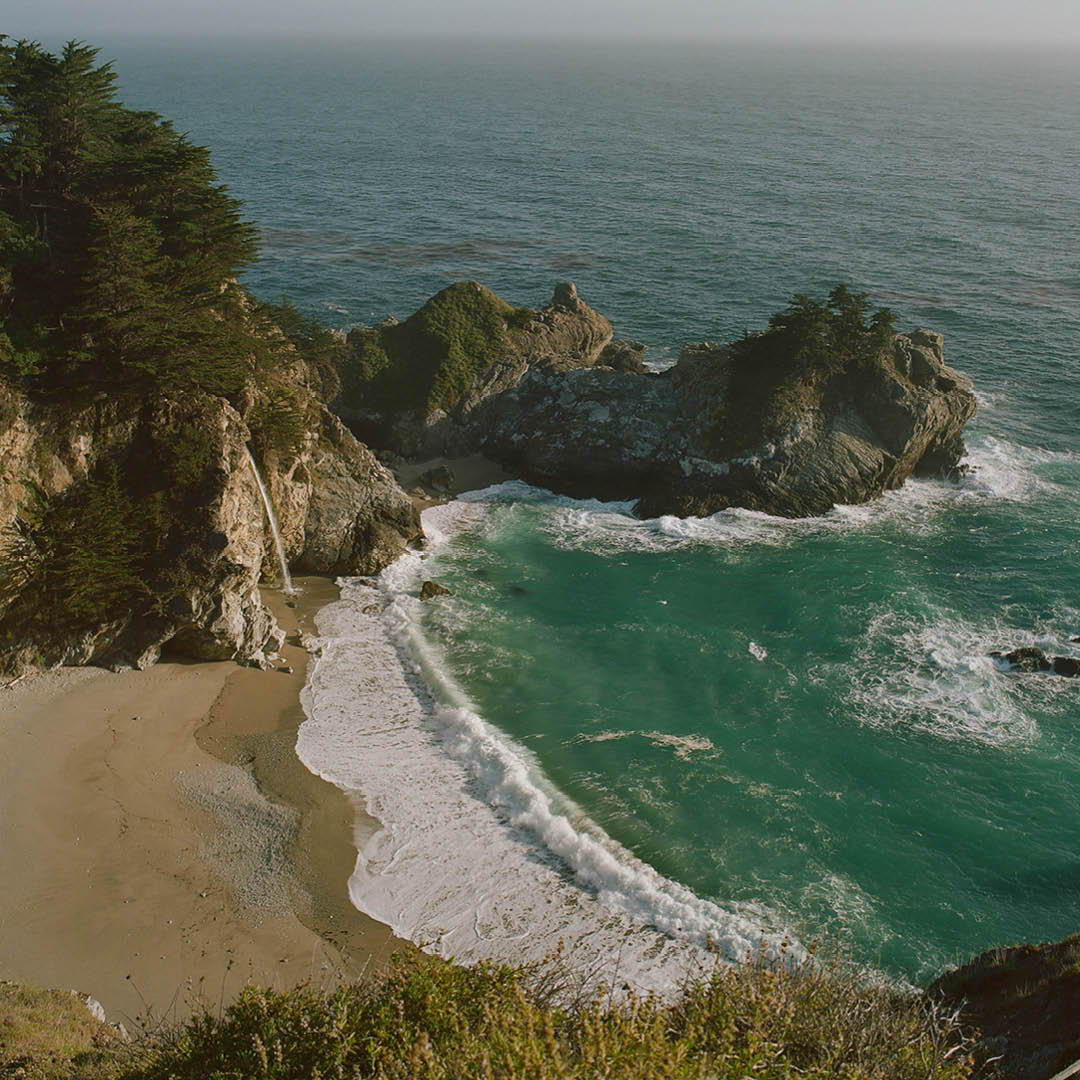 DAY 2
Now that you're settled in, it's time to get you exploring. First, the most important meal of the day - breakfast. Big Sur Bakery, which by the way you'll want to get there on the earlier side because it sells out fast, has the most delicious pastries in the area and is an absolute must. Hang out and eat there or take your treats to go and head to Pfeiffer Beach just to the north. Known for its purple sand - yes you read that right, purple sand - and large rock formations, Pfeiffer Beach offers another round of breathtaking beauty to the trip.
After the beach, on your way back down south, there are a number of trailheads you can stop at to get in a hike. Choose between the Big Sur Trailhead, the River Path Trailhead and the Pfeiffer Falls Trailhead. Each hike has you amongst the Redwoods and offers a serene afternoon in the woods. Next up - cocktails! And you guessed it, even more views - head over to Nepenthe and enjoy their cliffside terrace with a glass of wine and either a small snack or a late lunch.
By now, you're likely ready for a nap back at the hotel before dinner. And for dinner, The Sur House. With a warm and woodsy atmosphere, this locally sourced American cuisine offers more ocean views from their terrace.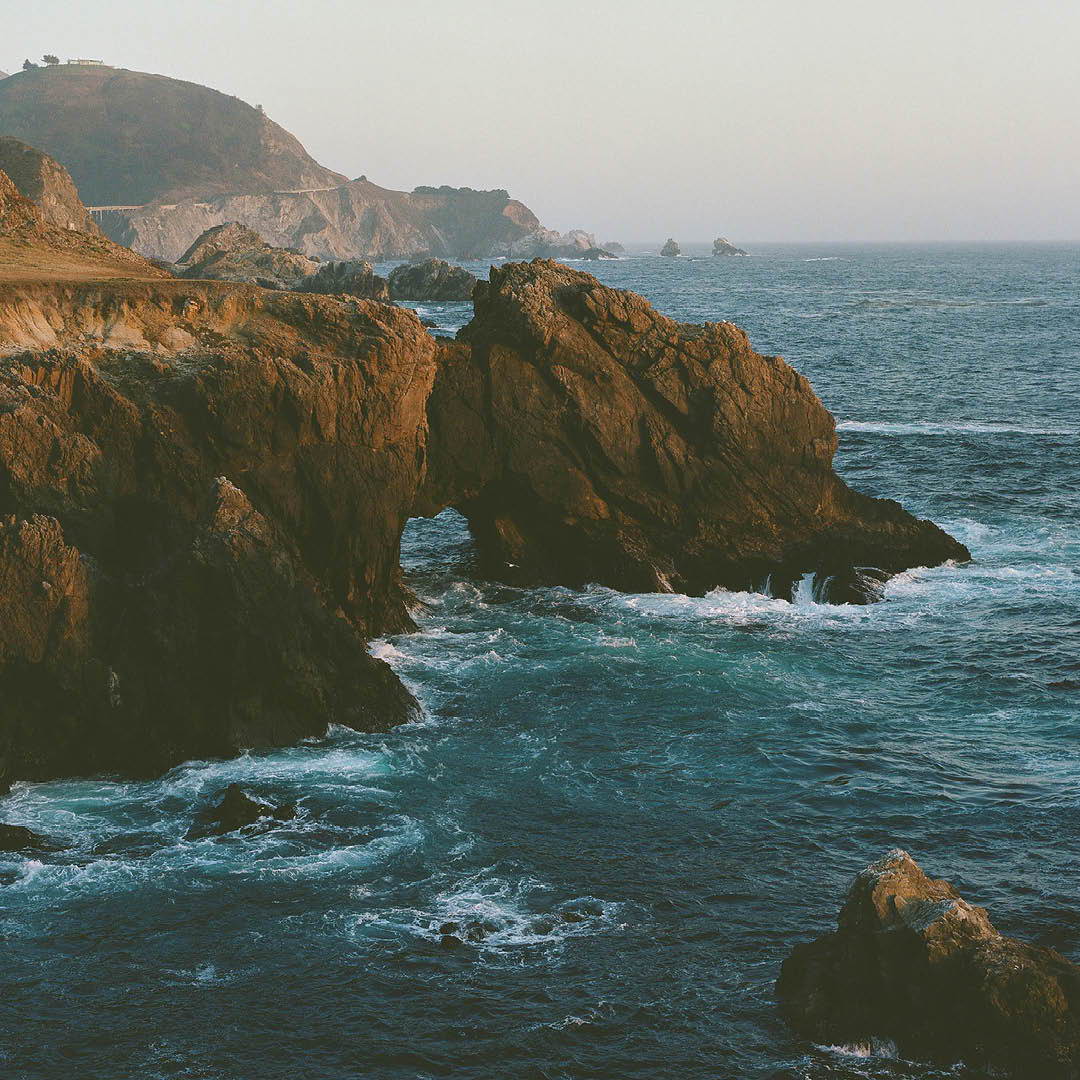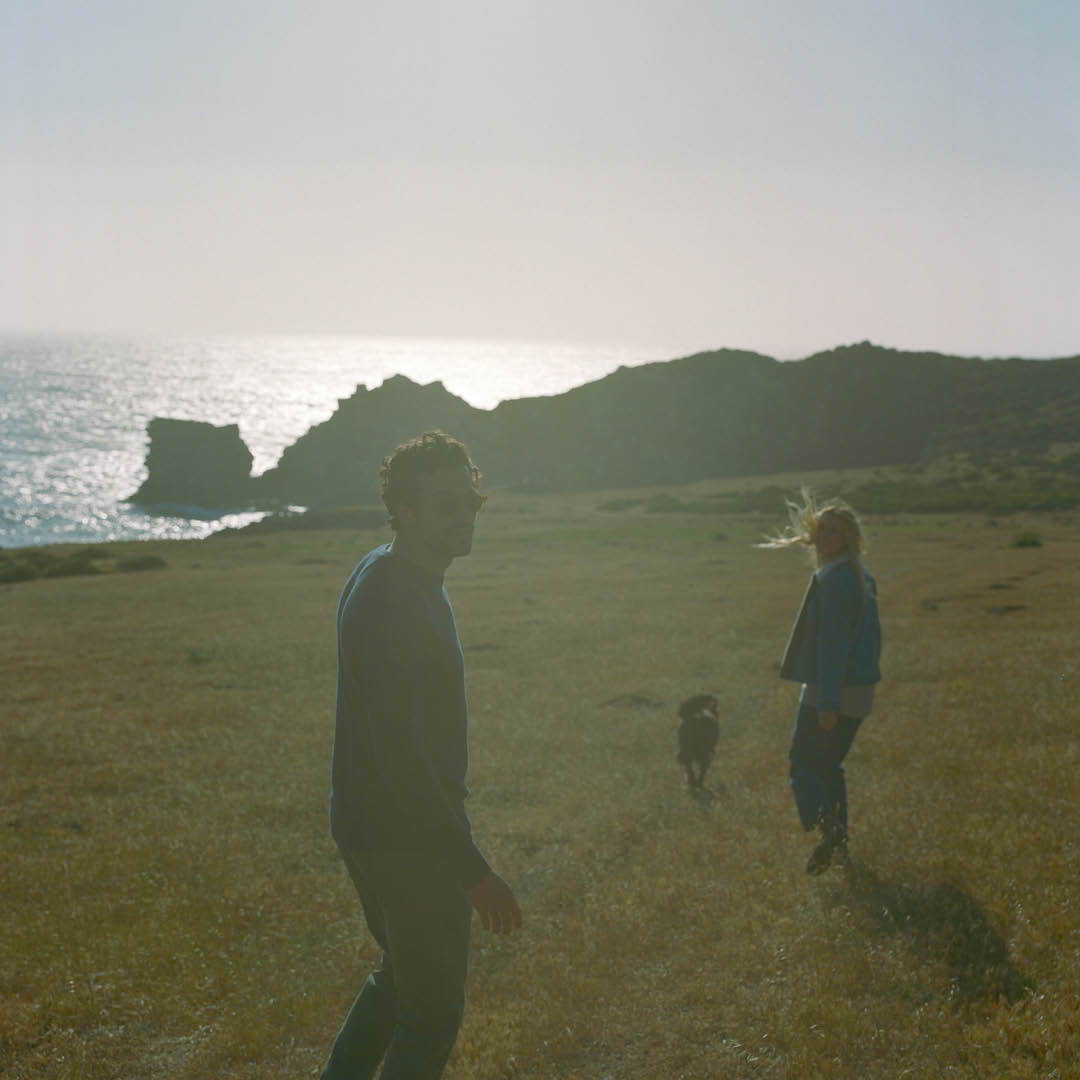 DAY 3
For your last morning, take your time at the hotel and when you're ready hit Cafe Kevah, below Nepenthe for a morning out on the terrace. From here, we have you headed back south to the California Sea Otter State Game Refuge. With even more iconic views, the Refuge has a huge population of sea otters, sea lions, and if you're lucky you may be able to spot some whales off in the distance. As you continue to drive south, you will pass the McWay Falls - an 80-foot waterfall onto a small beach. Driving further down Highway 1 and towards the south end of Big Sur, you'll want to stop at the Esalen Institute, a retreat center that offers workshops, hot springs and massage. What better way to end your trip than with a day pass that gets you a massage, lunch and use of their hot springs. After your relaxing afternoon, head to Limekiln State Park to cap off your 3 days in Big Sur with views of the coast and redwoods before finishing up your drive to San Simeon.