We had the pleasure of meeting Rob Collins, from King Collins Golf Course Design, during the 100 Hole Hike at Sweetens Cove. While Sweetens Cove holds a special place in many golfers' hearts, for Rob, it has become a part of who he is - and what he credits much of his success as a Golf Course Architect to. Sweetens Cove, previously Sequatchie Valley Country Club, was the first course he and his business partner, Tad King, designed together in 2010 after forming King Collins Golf Course Design. It quickly became a publicity machine and is what Rob and Tad consider to be the reason they have had the opportunity to work on so many other incredible course designs since.
Rob and Tad first connected in Naples, Florida in 2006. Rob was working as a Design Coordinator for Gary Player, working as a lead vision architect and Tad was working for a golf contractor. They connected, naturally, over course design and the inefficiencies they saw in the current model of having an architect and contractor on seperate teams. They discussed what they would do if they started their own business. Then, when the recession hit in 2008, they both lost their jobs, forming this perfect storm of opportunity for them to make their conversations a reality.
After Rob had some time to recover from the 100 Hole Hike, we gave him a call to ask him some questions about how he got started and where he pulls inspiration from for golf course design…
What got you into golf course design?
"In 1994 I took a trip to St. Andrews and that was the initial event that set my mind in motion to be a golf course architect. At that point in my life I had a passing interest in golf, but after seeing The Old Course, I realized it would make an interesting profession.
I graduated from Sewanee in '97 with an Art History Major, which was a major I more or less fell into - but it ended up helping me to create that interest in golf architecture. Golf Course design is, afterall, an art form and a golf course in itself is a landscape architecture. I made my first steps towards making it my career when I went back for grad school in 2002 at Mississippi State for a Masters in Landscape Architecture. All in all, it was unintentional that I ended up in this field."
Where do you get your inspiration from?
"All things in golf architecture can be distilled down to what you find on The Old Course - so that's a good place to start. St. Andrews is, afterall, my favorite course in the world, and there are a lot of lessons from there and Great Britain and Ireland.
The 1932 Augusta National provided a lot of inspiration for Sweetens Cove. Their ability to utilize ground contours was a fundamental part of Augusta. This is the type of architecture that fascinates me the most. Tad and I like to take bits and pieces of what we see and like, put it in a blender, and see what comes out at the end. You have to be able to react to the field and what comes out of the dirt with the shapers. We put a lot of trust into the people we work with - it's a collaborative effort and the people on their team have a lot of opportunity to design and use their own ideas through the course of a design."
Do you have a favorite course architect?
"Alister MacKenzie - he had a very unique and thoughtful take on golf architecture. His writings are also very fascinating. He was bold and audacious at times, not afraid of his own shadow like a lot of architects are. He made a massive impression on the art form and the impression it has today."
How do you decide how difficult each hole will be?
"At King Collins, we stress variety. If we have 18 holes, we want 18 distinctive holes. We want people to come off at the end of the day and when someone asks what you thought about hole 13, you remember which hole they're talking about.
Creating variety and distinction is extremely important because you don't want the whole course to just run together. Tad and I stress these varieties - some holes might be totally getable. We favor match play as a form of golf, so creating half par holes. You have to have tough holes sprinkled in where you are just hanging on and a birdie is a big deal. So mixing both of these around, adding in trap doors where you might get in a bad spot but not if you hit a good shot - pursuing variety and finding the right places to sprinkle in the hard ones is key for us."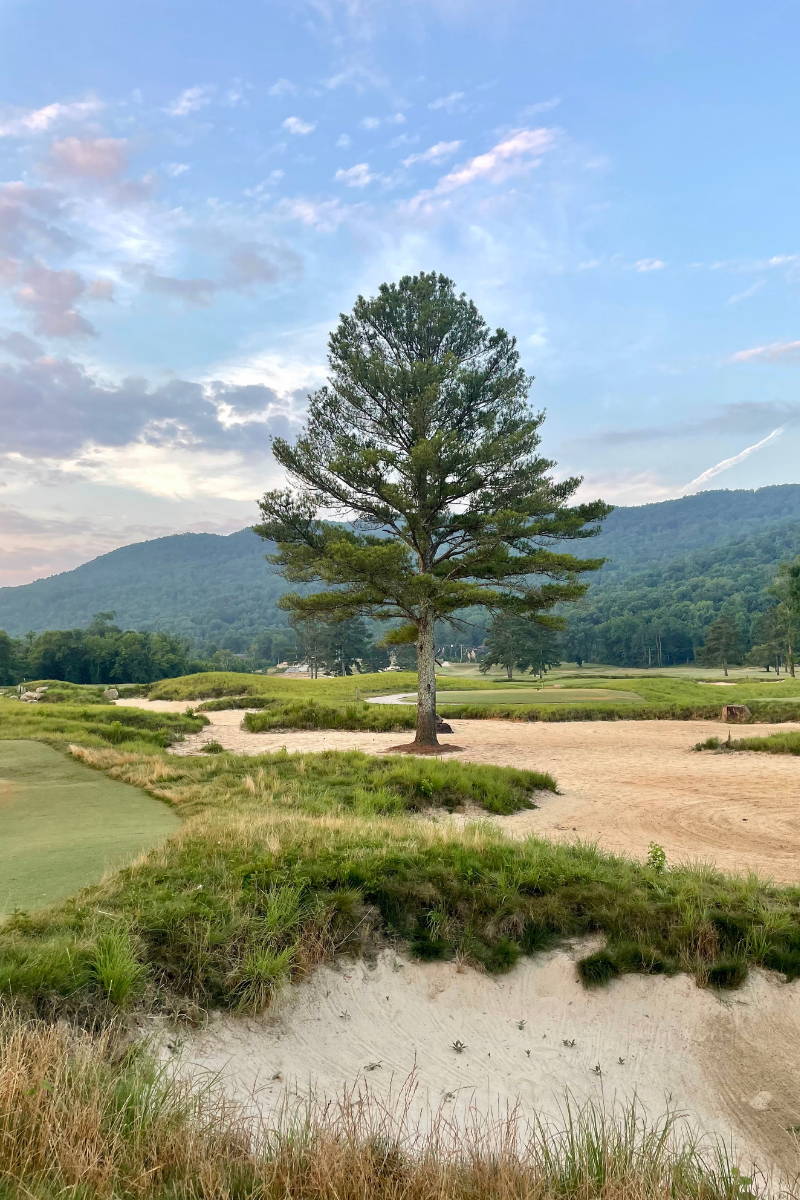 A large part of your work has been focused around the environmental impact of golf course design and construction - can you talk to us some more about that?
"Golf has gotten a bad rep in the past for its environmental impact, but in a lot of cases you can greatly improve the environment with the right design. For instance, Sweetens was just a bunch of Bermuda Grass prior to us coming in - by adding wetlands, ponds, altoral shelves and native areas with biodiversity, it becomes better than it was before. We take pride in being able to do things that have a good impact."
Courses like Sweetens Cove aren't your typical golf course - where did you get the inspiration to design that type of course?
"Reece Thomas, the guy who brought us on to design Sweetens, knew we had to do something different. We had to think outside the box and take chances - it's a 9 hole course in the middle of nowhere. It helped to open our creative floodgates and we saw this as an opportunity rather than a restriction. Because we had to do something different to make it stand out, Sweetens now has a flashing neon sign.
There were a lot of big factors around this project that were out of our control which helped drive our decision making - for instance the land is super flat - and ultimately this led to the success of it.
Pinehurst #2 was a big influence for us. The biggest hazard is short grass and contour and firm and fast turf. We played with this at hole #7 - It's our love letter to Pinehurst."
What's your favorite hole of golf you've ever played? Have you made an attempt at re-creating that in any of your designs?
"The 14th hole at The Old Course is my favorite. It's pretty much the ideal golf hole. MacKenzie wrote a great deal about it in his book 'The Spirit of St. Andrews' and even drew a fascinating diagram with 4 different routes to play it.
That is the sort of distillation of our overall design philosophy - it can be summed up in a lot of ways in the depiction of that hole. It's all about giving different classes of players a path. There is a sense of discovery in finding these routes. It helps to keep golf from going stale, having multiple ways to play each hole. Then, varying conditions each day change the game daily. The 14th hole at St. Andrews does this as well as any hole in the world."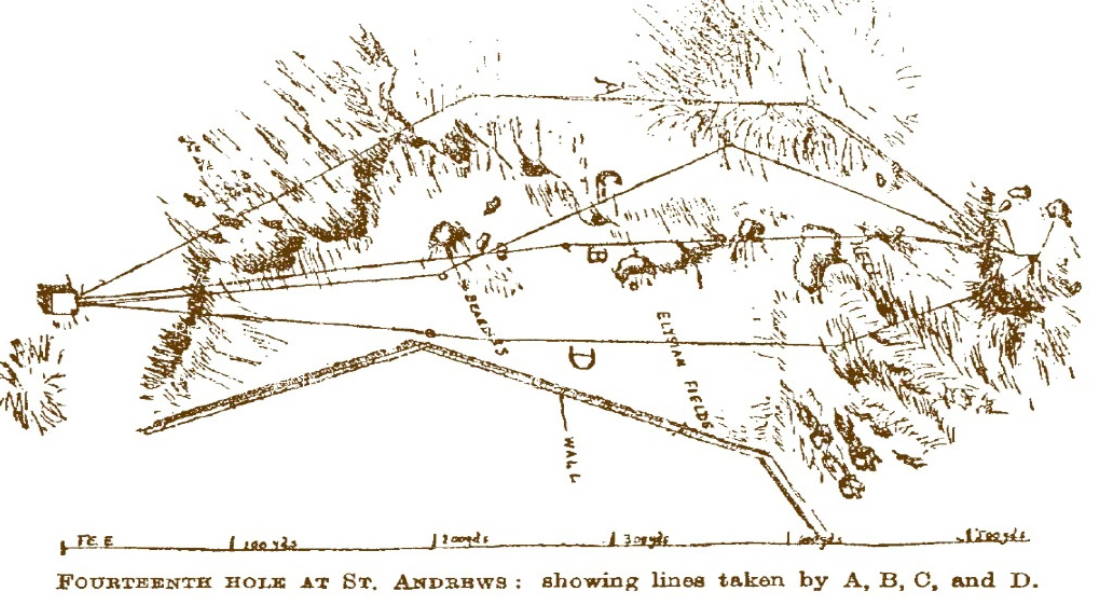 Diagram of the 14th Hole at St. Andrews, featured in Alister MacKenzie's book "The Spirit of St. Andrews"
What are your favorite johnnie-O pieces?
"The Sweetens Cove merch shed is a special thing - it's become a machine. They started really slow for the shop and started branching out with new brands and when they started carrying johnnie-O it quickly became my favorite. I love the ¼ Zips in the Fall - I have a closet full of your shirts on heavy rotation. If it wasn't for Sweetens, I wouldn't own any clothes. Every item has a Sweetens logo on it!"