The PNC Championship, played since 1995, is a pro-am in which 20 Major Champions team up with one of their family members for a weekend of fun (and competitive) golfing. One of John and the brands good friend Justin Leonard - winner of the 1997 Open Championship - has competed in the past with his father but this year's tournament would be the first time he'd be competing with one of his children, his 16 year old son Luke. So, this past week before Justin and Luke left from their home in Tekesta, Florida for the tournament in Orlando, they hopped on a video call with John to discuss the weekend ahead…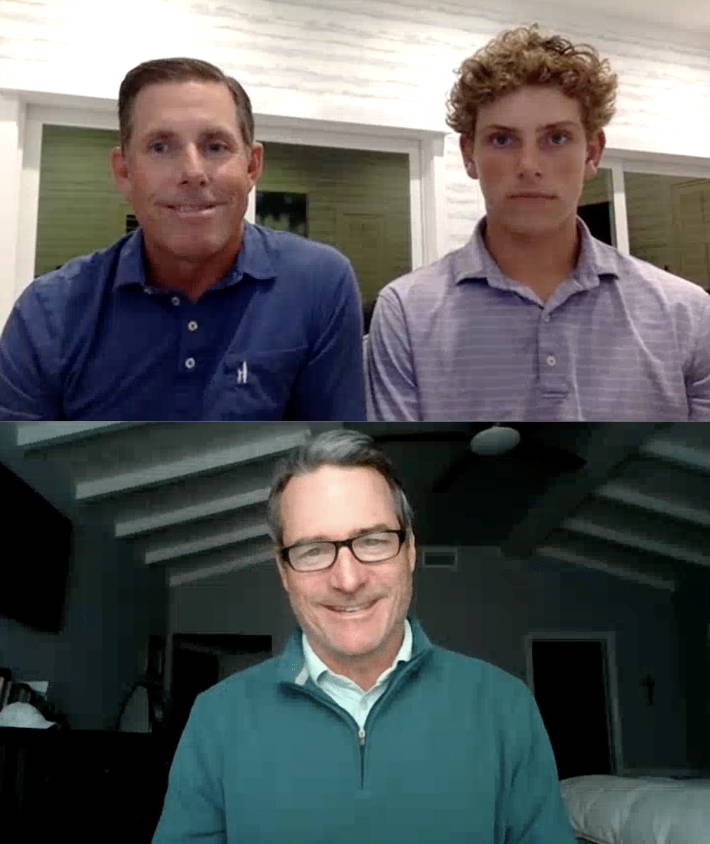 John: Justin, you used to play this event with your dad, didn't you?
Justin: I did, I played with my dad about 5 years ago and I've worked it a couple times with NBC, so I've seen both sides. It's a great event. It's a lot of fun for the families that get to play. We're just very fortunate that we're going to get to team up this year.
John: And Luke, are you prepared for this? You've probably played in a few of these things before, so you're not as nervous as maybe most 16 year olds would be, but how are you feeling going into it?
Luke: I'm really excited! I've played some junior
golf events so I think I've trained a bit for the nervousness aspect of it, but my game feels good and I feel like I'm where I need to be.
John: And Justin, you've been such a presence in the world of professional golf. Gosh, you were a US Amateur out of Texas and on to the Tour scene… into the Ryder Cups and Presidents Cups, some British Opens and the put… everything. And then you got behind the mic for a bit and we still saw you but we didn't see you at your real craft, which is playing the game. Your back now on the Champions Tour, correct?
Justin: Correct! I turned 50 back in June and I played about 4 events in 2022 and did about 10 events with NBC, so I'm kind of combining the 2 this year.
John: It's fun to see you back inside the ropes, as much as we like you as a commentator. Give me a little something on Luke's game here - what are we going to be looking for? Long ball hitter? Crafty short game like his dad?
Justin: He's very consistent off the tee, and with his advantage off the tee by playing up since he's 16, I would expect we'd use the bulk of Luke's drives. And then he's a great putter too, he makes a lot of putts inside of 10ft. He just started really taking the game seriously a couple of years ago and before that he would play a round here or there, and I mean like 2 or 3 rounds a year. We were living in Colorado for the last 7 years until we moved to Florida in July. So he's really just getting into the game in the last couple of years. He made his highschool team as a freshman back in Aspen and then the move to Florida, I told him like, "bud… it's a different level of golf in Florida" and man, he put the work in and made the varsity team at Benjamin as a sophomore - so, he has great work ethic. He's still learning about the game, as am I! I mean, it's amazing, we were out earlier in the week and we played a little 9-hole scramble, he's never played a scramble format before, and I made a couple mistakes strategy wise of ya know, trying to hit a ball too hard, those kinds of things, and so this game is awesome because it's a constant learning process and I think at times I certainly help him with his game but there's times where he teaches me a little bit as well.
John: So Luke, what were you doing out in Aspen all the time, skiing or snowboarding?  
Luke: Yeah, I did a lot of skiing. It was kind of tough, especially these last few years when I've been trying to play a lot of golf and grow my game to be able to practice consistently with the snowfall during the winter months, so yea - a lot of skiing and then trying to get to the indoor simulator as much as possible.
John: Yea you're talking to a Chicago guy here, we didn't have simulators when I was your age. You'd go into a 7 month hibernation, and when you came out your club felt like a stick, so I know exactly what you're talking about.
John: Justin, as for your long horns, I mean, wow… kind of a tough year wasn't it?
Justin: Yea, I mean it's getting there. We somehow found a way to lose 4 or 5 games that were very winnable but it's going in the right direction. We've got a couple of great young quarterbacks, one of them has the last name Manning, so that may help a lot next year. But, it's going in the right direction. I've got a niece that's a swimmer at Texas and so I probably follow it a little more closely now just through her being down in Austin, but it's a great athletic program. I mean, the football team, we're going to get there, it's just taking a bit longer than we hoped.
John: Did you get to a game this year?
Justin: No, I didn't get to a game this year. It's been 3 or 4 years, and now with a daughter at UVA and our next one will be at SMU next year, so we'll see a lot of college games, I just don't know if many of them will be Texas games. We've gotta go see our girls!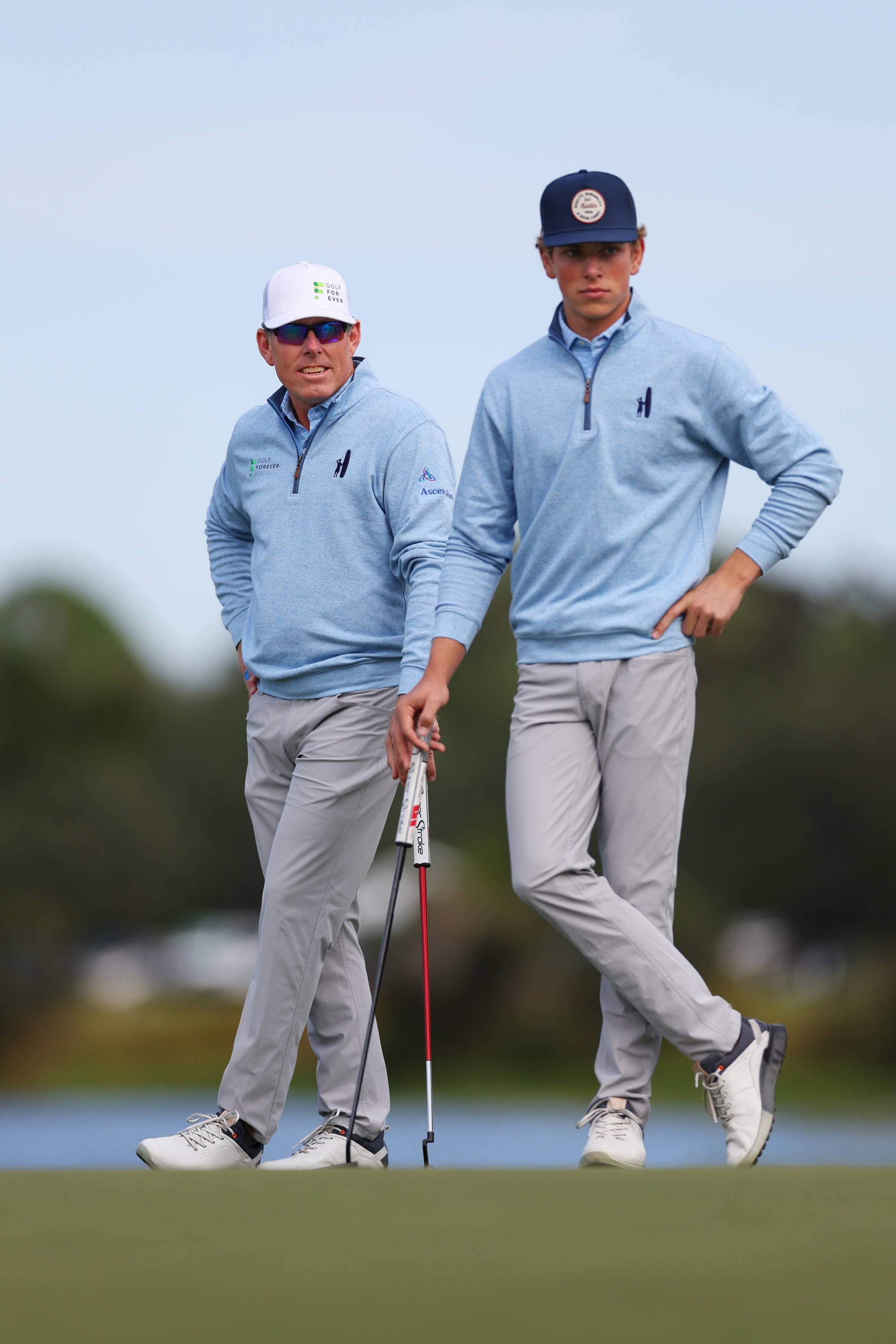 John: And Luke, tell us a little about what you've learned from Dad on the golf course. There's a lot to take on there, but are there any specific things where you're like, "I really like that", that you've locked into?
Luke: At this point he's almost like my part time swing coach, so there's that aspect, but I'd say that the biggest thing I take away from his game is staying so locked in and zoned in all the time. The moment that he steps on to a golf course all he's really thinking about is golf and what kind of shot he wants to hit next. So I'd say that I've learned more mental lessons, as well as course management. I mean just the other day, when we were playing our warm up scramble round we talked a lot about what kind of shot shapes we need to hit where and strategy as to when somebody hits a really bad shot or what happens somebody hits a really good shot, what to do after that.
John: Do you think it's a game you want to pursue? I know it's still early but do you feel like "wow I've found a spot here and I'd really like to pursue this and play at the next level"?
Luke: Honestly as of now I'm just focused on junior golf and highschool golf but if I could take it to the next level I'd love to.
Justin: Luke also plays lacrosse, he's actually (pointing at johnnie-O logo on his shirt) the perfect person for the johnnie-O logo because he plays golf, he hangs out and he surfs, as do I. So he's kind of transferred his mountain skills - mountain biking and big mountain skiing - into some water sports like surfing and kite surfing and all of that.
John: (laughing) Of course, he's a prototype, and with that hair, I mean come on, it's perfect! We oughta be paying you big money!
John: I've watched the PNC over the years and it's fun, I mean going back to the early days of this tournament and watching Lee Trevino and his son and now you've got John Daly and young John, Tiger and Charlie… It is really, really cool to see how these kids have grown up on television. Have you gotten any pairings yet or is it still too early?
Justin: No, we haven't gotten any pairings yet, but it is fun. One of the fun parts in doing the telecast a couple times is watching the mannerisms between the parent and the child. Nelly Korda is playing this year, Annika Sorenstam is playing this year, Justin Thomas is playing with his dad, Jordan Spieth is playing with his dad. On the telecast, by Saturday and Sunday afternoons showing a father and son or parent and child standing there the same, or waggling the way they do things, it's remarkable. Even just Luke watching me play golf all these years has picked up on some mannerisms, some pre-shot routine things that I don't think he really even consciously thinks about. Probably in a lot of ways it's like, "oh that's what dad does". So those kinds of things and then just the fun of being able to go out and compete together and spend 3 or 4 days dialed in on golf and playing in a competitive environment, it's really a lot of fun.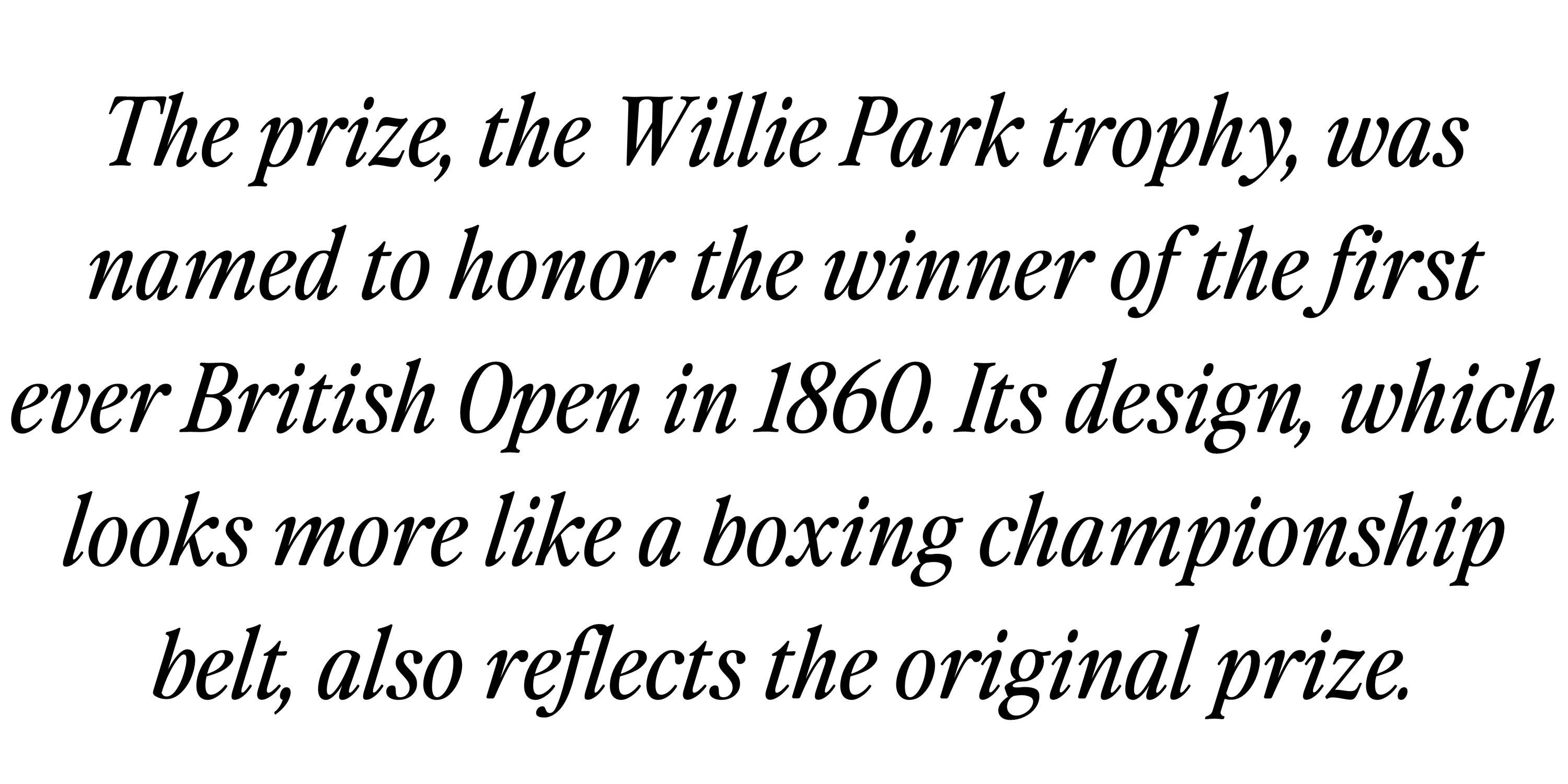 John: I just want to thank you guys for taking the time. We're honored and privileged to have you wearing johnnie-O out there. It's great having good, solid people representing what you do and so we wish you guys the best. We'd love to see a trophy here… Luke I think you'd get asked to the senior prom if you won this event, so get after it!
Justin: It's a wonderful company, we love the clothes, but you and I have been friends and known eachother a very long time so it's nice to be around such great people, including all of the people that you've hired that you work with. It's a pleasure and an honor to be associated with the name johnnie-O.
John: And Luke, I bet you didn't know your dad sings a mean karaoke. I'll let him tell you about that later…
Justin: Ah, yea we're done with this interview! (Looking at Luke) I'll tell ya off camera…