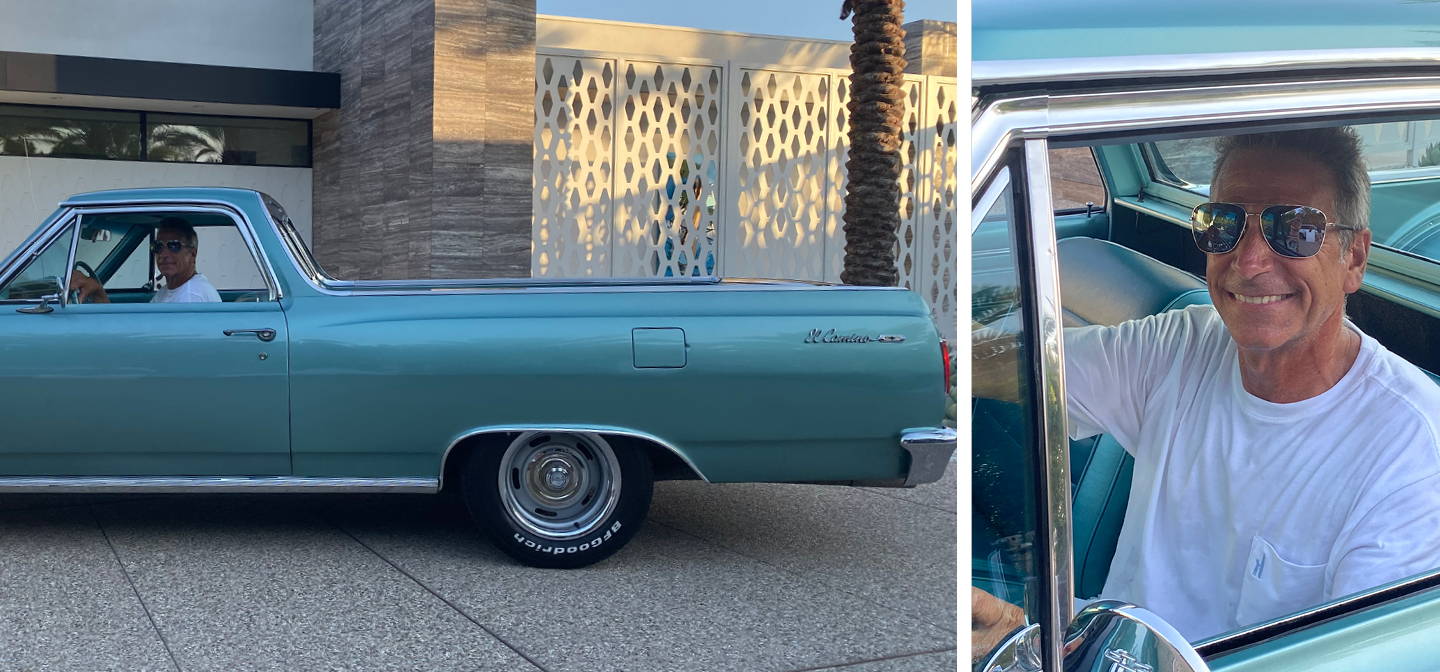 Happy Fall, everyone! Speaking of Fall, for our most recent catalog shoot, we headed to Palm Springs which, if you (like us), enjoy palms, pools, and trying to break par, then you gotta get yourself to this desert oasis. Sitting under 2 hours outside of LA (without traffic, that is), it's the perfect getaway for a little rest and recreation. Palm Springs embodies the johnnie-O spirit. When the work is done, it's the perfect place to play, and thus it was the perfect backdrop for our Fall catalog. Quite a bit goes into these shoots. From securing models, to transit, properly pressed clothes, and gambling on weather/lighting situations, it's is a roller-coaster of emotion, to say the very least...and we love it! It's pretty amazing, but it always works out in the end! johnnie-O combines that East Coast prep and West Coast casual, and apart from the clothes and faces, are the props! One of those props, if you've seen the catalog is that gorgeous blue El Camino, but cooler than the car itself is the owner, and our friend, Rich Manazza.  
Rich is basically the personification of a Beach Boys album. He surfs, drives cool cars, and plays guitar (well). Not only does he play guitar, but his job is traveling the world over with some of the top musical acts, making sure their guitars are in peak performance while on tour. What's the old adage —If you love what you do, you'll never work day in your life? And what a life he leads! Talking to Rich was a treat. He's truly as humble and kind as they come. After spending an hour on the phone with him, you can't help but crave his the raw and honest joy he extracts from simple pleasure, surfing, the water, music, and the open road. If you were to imagine "Southern California Guy," it might actually be Rich that pops in your head. Laid back, kind, cool, and game for a laugh. Take a minute to absorb the wisdom as we give you a window into our new friend's life. This is Rich Manazza:
When you're not working on cars, what are you doing?
Doing a lot of surfing, playing guitar, but mostly surfing. I surf a lot. I'll be gone 3-4 months at a stretch and back home for a few weeks or a month, and I'll surf my guts out. Surfing is a big part of my life.
What's your favorite surf spot?
I've been surfing Topanga for years. It's super close. I love Malibu, I just don't love the crowd. Just too crowded. Palos Verdes Cove is really nice. Pretty far, but it's very magical down there. It's like the land of the lost down there. My friend keeps finding whale fossils down there, actually. She's a rock hound. She showed me this interesting rock and I said, "I don't think that's a rock," and her friend is a geologist and told her that it was petrified whale bone.
I'm a longboarder. 9'6" generally. I got a new one that's basically the color of the El Camino, but it's too pretty to ride. I just use it as art now. I'm 59. I don't have to rip the wave to shred. I'm more about style and trying to make it look elegant and more ballet than breakdancing.
Tell us about the passion for the El Camino. Is that trace back to a particular car or moment in your life?
When I was a kid, growing up in the 70s, a lot of these cars were driven by kids in the neighborhood. I couldn't drive yet.  I was 9-10 years old. I couldn't afford a convertible Chevelle, which was $3500 at the time — which was a fortune (he says while laughing). When I got to driving age, these cars were hand-me-downs because now they were 10 years old or older at the time. So, I got my father's '67 Buick Skylark. And then I did buy a newer car, but I went backwards. It didn't do anything for me. I loved the classics. I see an old car and I get so excited. It's like rolling art. It's such a statement. It really says something about what you are and who you are….and the audacity to drive a classic everyday. And because I don't have to commute to work, because my driving is purely leisure most of the time, I choose to only drive classics. I've always had this nuts and bolts mentality. I wanted to take things apart and see how they word. My grandfather was very mechanically-inclined, but my dad couldn't hold a hammer the right way.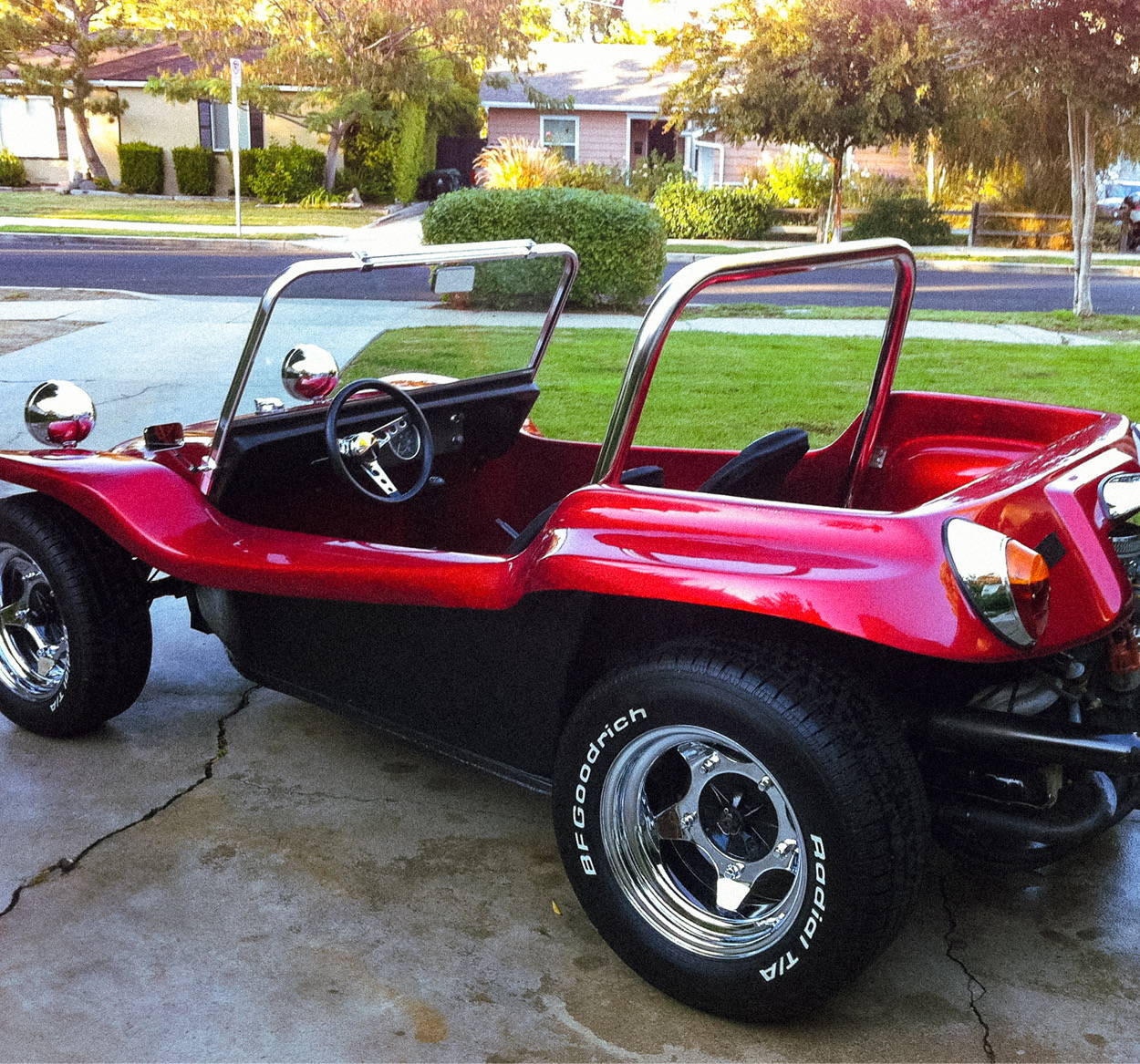 Bucket list road trips
I really want to drive the buggy across country with my club. That's something I REALLY want to do that I haven't done. Another dream is to hop in the buggy and just cruise up our beautiful coast and surf a different spot every day.
Can't leave home without travel essentials
A Laptop or an iPad. You know, this is gonna sound crazy, believe it or not, but I bring along the El Camino parts catalog with me. It's what I read on on airplanes or in airports. Most people are reading current events, I'm looking at car parts that I probably don't even need, but like, "Ohh…it's good to know they make that. Oh, and I like that!" I do travel with a guitar. I play in my hotel room sometimes.
If clothes make the man, what does his car say about him
A car reflects our personality. At least in this town, people associate you with what you drive. The buggy, to me, screams, happiness, joy, endless summer, you know? Most people look at the El Camino like a mullet, you know business in front, party in the back. I never saw it that way. To me, it made perfect sense in that you don't want a massive truck, but you want the utility. I see it more utilitarian, even though it's more of a show car for me. I mean, I originally bought it as a surf car, I just didn't know I'd buy one that nice. I'm always nostalgic for a time that was simpler and these cars remind me of a when I was a kid. That's what surfing does. It keeps us young. We get in the water and all the sudden, we're all 8 years old, playing with our friend in a liquid playground.
What other cars are in your quiver
I've only got 2. I've got the El Camino and I've got a little red sparkle Dune Buggy. The Dune Buggy is actually my daily driver. It's basically a Volkswagen cut down 14 inches in a fiberglass body. It's all street legal. That I built from the ground up. In fact, I touched every nut and bolt on that car and I built that in between work and traveling. This October will be 8 years since I finished it, and I've won best in show a couple times. I've taken that Little Dune buggy to Monterrey, Mammoth, Laughlin. My Club drives across country once a year, but not this year with the pandemic. I strap my surfboard on the top. It's just a gas. Everyone smiles, they want to talk to you, I let kids crawl in it. I even toss dad the keys, and tell him to take the kids for a spin. It's a great daily driver. I park it at my favorite surf spot and let people hop in and take photos in it. Most people don't even know what it is.
What's next for your car collection?
If I had the room, I've always had the desire for a 1967 Chevelle Convertible 4-Speed….in Marina Blue or Butternut Yellow. Sort of epitomizes the muscle car era of a street brawl. They used to call it the street slider. Back in the day, in the 60s, these cars were racing stoplight to stoplight. In Southern California, the car culture is massive. All these guys came home from WWII and just started slapping together old '32 Fords because they were cheap and just started racing them around. That's how Hot-Rodding was born.
__________________
We want to thank Rich for the interview. We hope you enjoyed it. May we all strive to find that work-life balance, taking advantage of all that life has to offer and doing so with a smile on our faces like our friend, Rich.