We recently had the chance to catch up with Clinton Leeuw and Jaymie Haycocks, friends of the brand and professional doubles squash players who compete on the SDA Tour. Clinton and Jaymie are friends, coworkers, and partners. They've been making waves on the SDA tour this year with strong results such as their win at the Diamond State Open and semi finals appearances at the Big Apple Open and the Briggs Cup. Whether you're a seasoned vet on the court or new to the game, we're sure you'll enjoy getting to know our good pals who are making their way up the world rankings.
You were both originally singles players, what was the transition like to doubles? At what age did you pick up doubles? How is doubles different from singles? Is it a different mindset and strategy?
Clinton: I started with doubles when I moved to NYAC a few years ago. The transition was slow for me, it took me some time to fully commit and adjust to the game of doubles. The skills you need for both softball singles and hardball doubles are the same, but you just utilize the skills differently and that was the hard part for me during the transition. Getting used to changing my grip, changing the string tension and adjusting my swing took me some time to adjust too. The doubles mindset is similar to singles, but you do have to factor in that you're trying to beat two people on the doubles court. You are constantly having to calculate where to hit to hit the ball, what your opponent is going to do, what his partner is going to do, where is your partner… all these things are happening in a split second before every shot.
Jaymie: I started doubles in 2019 when I moved to the U.S. It was a steep learning curve; I certainly didn't realize how different the game was from singles at the time. My partner and I at the time were humbled by some amateur club players in our first time out at the North American Open 2019. I've learned a lot since then and even have a few wins under my belt!
What is your competitive advantage over other teams? Fitness? Shot making? Consistency?
Clinton: I think our main strength is our fight. Coming from the PSA singles tour, which is a grind, we've built a lot of resilience. I think that is a competitive advantage we have over a lot of teams because both Jaymie and I went through a lot of the same challenges and hardships while playing singles which has made us tough competitors. We also have a good bond and understanding when things get tough in a match.
Jaymie: At this stage, Clinton and I have a very good base of fitness and intensity from singles as well as good racket skills from years of grinding on singles tour. I think we are also both very driven to improve our doubles skills and partnership.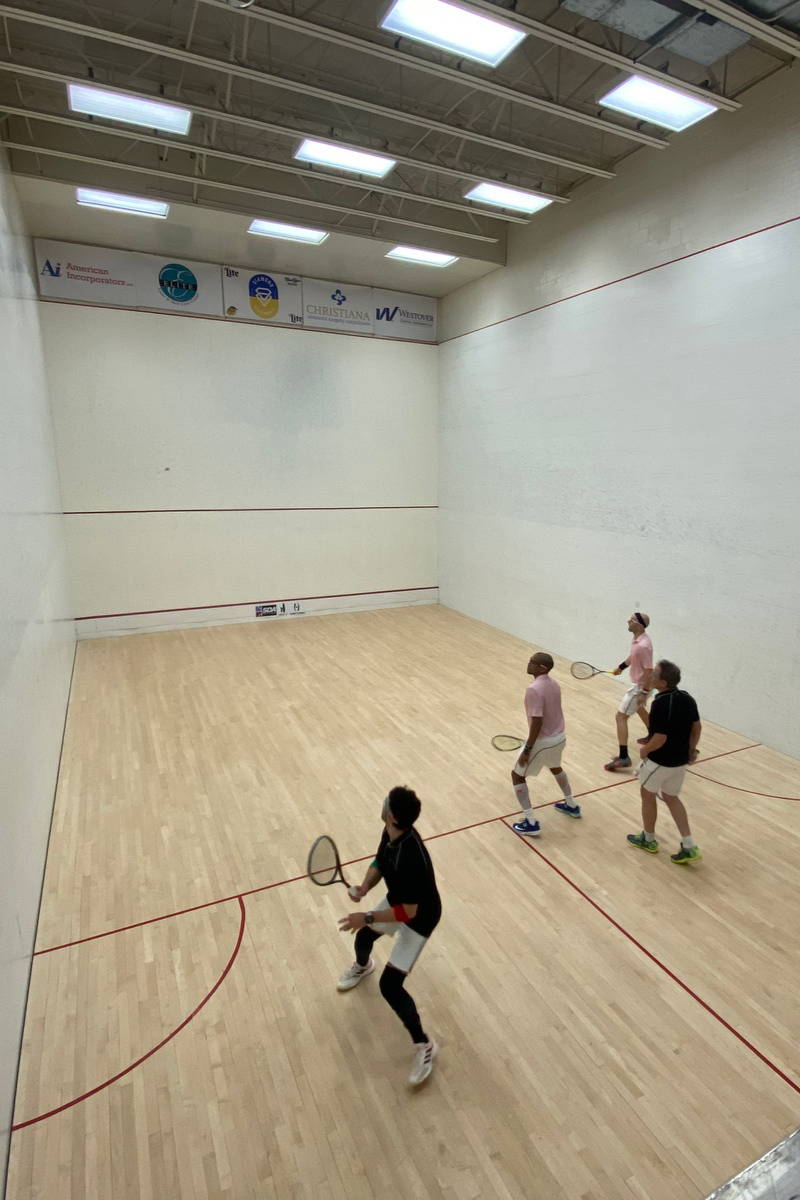 What are the main strategies in doubles? (Target one player?) How do you defend if the other team is targeting one of you two?
Clinton: Still trying to figure that one out… we mostly focus on creating open space on the court and getting our opponents out of position. Even if the open space is on the 'stronger' player's side, you always try to attack the open court.
We try to make sure we identify the pattern of play, so we try anticipating early if they are targeting one of us and then adjust early so that our opponents don't build and sustain the pressure on one of us.
Jaymie: Strategies can vary from team to team. But the general rule is to out-position players and leave a space open in the court and try to hit that space. And this is all done while connecting on balls hit up to 200mph!
If we sense there is a weakness in one player, we will certainly focus on them, which is not a nice feeling when it happens to you. When getting targeted, the best advice is to defend well using lots of height, instead of trying to hit hard or attack from tough positions.
What separates the good teams from the great teams? How much does familiarity and getting reps in as a team help?
Clinton: Consistency! At the elite level, everything is about consistency. Doubles is a game that has plenty of back and forth swings in a match. The team that can make fewer errors when they are down in the game and not get too excited when they are ahead are the teams that do well. Great teams are great at doing that and good teams are just good at doing that.
Jaymie: The best teams are able to think quickly and adapt to the situation and environment. Every doubles court is different, and even the same court can change based on temperature. The best players are able to use this to their advantage. Looking at the honors boards, the best players have won events remarkably consistently over the years.
I think the best teams are often good friends or players that spend a lot of time together or work together. This builds trust and an understanding of what each player is likely to do.
How did you two meet? When did you decide to join the same team?
Clinton: We met about 13 or 14 years ago while playing professional singles. We decided to start playing together when Jaymie joined the NYAC coaching team.
Jaymie: Clinton and I met in Europe around 2008 while on the PSA singles tour. We played for the same team in Bremen, Germany for a season and lots of pro events together around the world.
We decided to play together in 2022 after I moved to work with him at NYAC.
You guys have what seems to be a great friendship - how does this reflect in your playing or overall strategy?
Clinton: The main thing for me is that we fully trust each other's commitment to winning and trust each other's choices on the squash court. We communicate well with each other and that really helps especially when your heart rate is 180bpm and you're down in the game. The last thing you need to be yelled at by your partner, we don't do that to each other so that always helps.
Jaymie: This is really important for me. You spend a lot of time together at events so playing with someone you get on well with is a must. We like socializing together and enjoying the time off the court. We also know that we are both driven to improve our games at the moment, so while there will be good and bad days, there is no judgment when a shot goes down or a match doesn't go how we wanted it to.
What drew you to johnnie-O?
Clinton: I first discovered johnnie-O while playing a doubles tournament at Field Club of Greenwich where one of the pros was wearing it.
Shortly after, we received some gear through the SDA and the love affair began! I love the different colors and how the different products hold up under the rigors of professional sports. Having owned a couple of pieces over the past few years, the shirts still fit well, feel good and don't get baggy after multiple washes.
Jaymie: I was first introduced to johnnie-O as they sponsor the SDA Tour. NYAC has a lot of jO gear in the club shop and I really liked the style and quality of the products. Clinton and I wanted to make a point of dressing well and looking professional as a team when we started playing this year. When we looked on the JO website, we saw lots of cool, vibrant polo shirts that we thought would stand out and make a statement, which was what we intended to do on court as a team.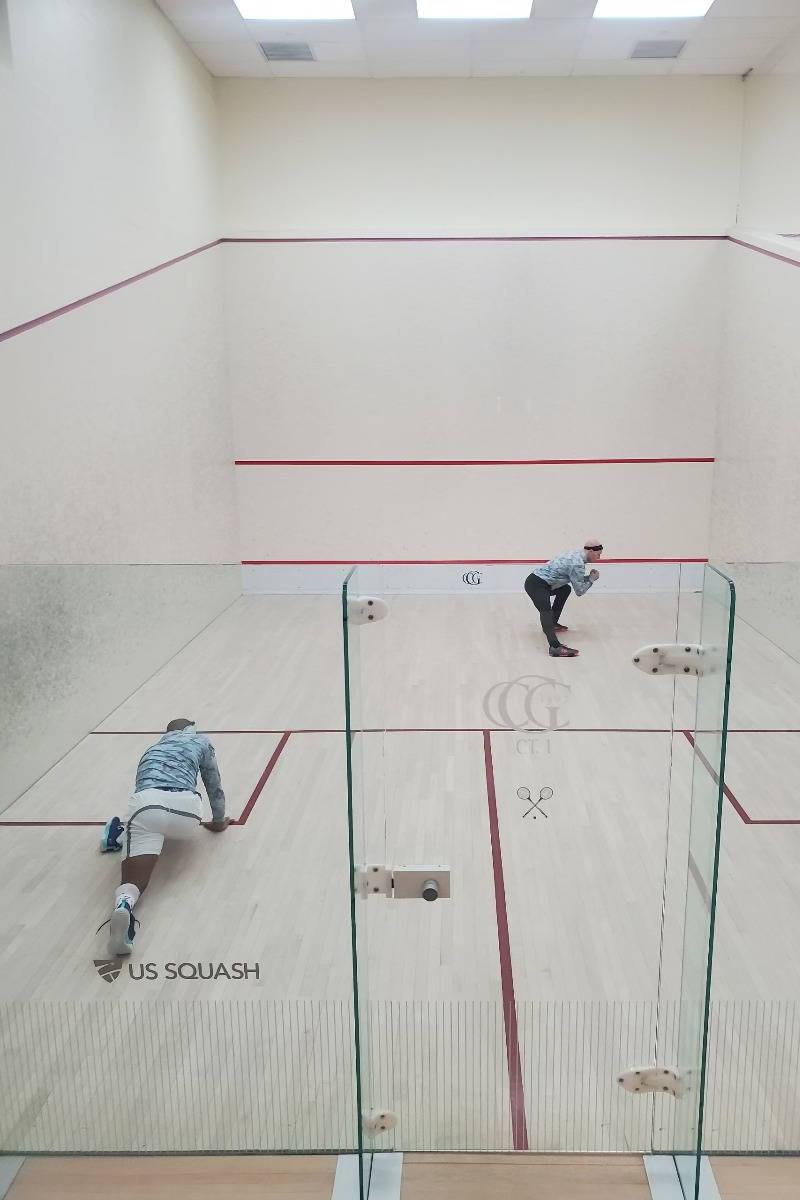 What does training look like for you? Is it both mental and physical or one more than the other? What drills do you guys do?
Clinton: We do a mix of singles and doubles. Singles squash for overall fitness and then we practice together and do practice matches. We train together about 3 times a week and then we do our own fitness and gym work on the other days.
We always talk and debrief after a match and strategize before the tournament. This is part of the mental training for us, being clear what we are trying to achieve in the match and how to go about it. If we don't succeed, we learn and do better next time.
Jaymie: We play practice matches with other pros, which is a benefit of being based in NYC as there are plenty of potential opponents. I personally find solo practice has helped my hitting a lot. Clinton and I do 'sides' together - essentially where you hit everything across to your opponent/partner's side, trying to out position and out hit them. This is tough physically and technically. We both also keep fit playing singles too which definitely helps despite different movement patterns.
What's your favorite place to play a tournament?
Clinton: I am biased toward the Big Apple Open in NYC, which is hosted by my home club. Other than NYAC, I really like the MFS Open in Boston. They really take care of the players at that event.
Jaymie: The Big Apple Open was held at NYAC, on our home courts which was great this year. We had great support from the members. Wilmington Country Club in Delaware - where we won our first title a few months ago was also a great experience.
My favorite court is at the Racquet and Tennis Club in New York - it's the Wimbledon Centre Court as far as doubles goes. An epic gallery with lots of history.
All the events have exceptional hospitality and are either stunning country clubs or city clubs.
What big tournaments do you have coming up?
Clinton: We have the Johnson Memorial (Brooklyn Heights) and MFS Boston Open coming up.
Jaymie: We have the second half of this season to come. Later this month, we have the Johnson Memorial at Heights Casino in Brooklyn.
March sees the MFS Pro-Am in Boston, MA, which will be a first time trip for me. We will wrap up the season with trips to Cleveland, OH and Buffalo, NY.
What has been your best win on tour and most memorable moment?
Clinton: So far, winning our maiden tour title in Wilmington, DE but our semi finals appearances at The Big Apple Open and The Briggs Cup come close to that.
Jaymie: Our best win was our first SDA title, The Diamond State Open in Wilmington, Delaware, November 2022.
We also had a great quarter final win, knocking the #2 seeds out at our home club during the Big Apple Open 2022.
What are your goals on the SDA tour?
Clinton: Getting number 1!
Jaymie: To win one of the top, diamond tier events and reach #1 in the rankings.
We offer an exclusive online collection of SDA merchandise that you can view here.
Check out Clinton and Jaymie's title clinching game at the Diamond State Open here.
You can stream all SDA events on the SDA YouTube channel.